When Thales Corrêa was a little boy, he would gather his friends along to put up mini-plays he wrote. The precocious child would go all around the neighborhood selling tickets, filling up the plastic chair seats to watch his performances with an audience that would extend way beyond his proud family members. It's no wonder that little boy from a humbly rural Brazilian family, turned into the multi-talented writer-director with a culturally unique flair that he is today.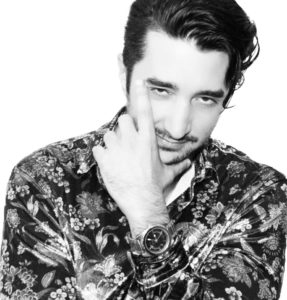 "I was always creating, I was a ham as a little boy and I'm a ham today," says Thales Corrêa, who has had his films played in major venues around the world like Festival de Cannes. The first was the short-film Parents, a somber drama where Corrêa – who edits and designs the effects for most of his films – pushes the genre to new boundaries with his visually striking storytelling. Experimenting with a new tone of sepia expressing that mesmerizing feeling of detachment between the characters.
Corrêa was born and raised in Brazil,  and brings an extensive array of references, from Héctor Babenco to Kubrick. "It's about the experience that each story takes you to. Different genres will lead you to different journeys, and I want to explore it all"  That goal might seem lofty, but consider the artist: Corrêa is the boy who at age 14 starred in a movie in Brazil. By age 16, he had learned English by ear. At age 19, he was on the stage of a Sweeney Todd production in Dublin, Ireland. At age 22, he became was one of 20 kids in the world to get early admission to UCLA School of Theater, Film and Television. Contracted by his 24th birthday and editing for other production companies (such as CNN and FOX) before his feature debut was even released, Thales Corrêa has earned the right to reach for the sky.
"My goal as an artist is to create new worlds that connect in very intimate ways," says Corrêa, who wrote not only the screenplay but also the lyrics for the Soundtrack Album for his feature film debut, Bathroom Stalls & Parking Lots (Breaking Glass Pictures).
Bathroom Stalls & Parking Lots
On Bathroom Stalls & Parking Lots, San Francisco's gay nightlife comes alive. Corrêa jumps in front of the screen to play the lead on his modern twist on hook-up culture. His incredible chemistry with the camera is electric from the get-go. With the multitude of locations throughout the film, the beautiful natural lighting helps add to the realism of the night as shadowy bars and neon-lit clubs come to life. With colorist Edo Brizio ("Kong: Skull Island", "Lego Batman") on board, the nightclub lighting really pops, allowing for some great cinematography to shine through and create gorgeously framed images. Using real locations from San Francisco's Castro District, Bathroom Stalls & Parking Lots not only serves as a great advertisement for Corrêa's work but also for the LGBTQ+ community of that district. The film feels raw and real the realism of the film. Couple that with a fantastic soundtrack from composer Same K which helps perfectly set the mood and make you feel in the moment with our protagonists.

The film is a terrific dramatic comedy that plays with the formula, with its focus on a group of gay male friends, keeping it fresh and fun. It's a well-constructed story that is able to accomplish a whole lot, considering everything occurs in a single night. The film periodically seems like a gay riff on Scorsese's Afterhours, and it comes alive in its tangles that aren't so focused on our main characters or their all-night boulevard of bad decisions. There's a detour to a fluorescent-lit underwear party, where it seems like everyone present has a story to tell. The mundane quality of the underwear party and the clinical negotiations of a sexual hook-up could have been pushed into satire but are just presented without judgment. It lets us make judgments for ourselves.
There are also ideas of multiculturalism front and center with the main characters, Leo and Donnie, often switching between speaking their native tongue of Portuguese to English and back again. This culture clash is not only between Brazil and America but for Leo between his life in Los Angeles and his experience in San Francisco. Corrêa is able to delve deeper into this multicultural look on San Francisco by exploring it on both a national and international level.
Bathroom Stalls & Parking Lots has a unique quality, it's an outrageous new comedy with a title that dares to say what so many of us come face to face with. "I wanted to make an original film that rings true to the community I'm part of, even if it means that my debut undergoes the challenge of being accepted by the general public, something that most of the LGBTQ+ people experience at some point of their lives. " he explains. But Bathroom Stalls & Parking Lots arrives trailing awards for LGBT film festivals, hitting the charts as best-selling DVDs on Amazon and TLA Video store upon its release. It's one of those films that portray a moment in time with a shambling accuracy.
Thales Corrêa debut is an apex of LGBTQ+ cinema, a good movie that gives us a different point of view that all of us can use to find insight into the same questions we all face as we try to muddle our way through life. A film that is not afraid to get at the heart of how contemporary sex-based tech has changed so many dynamics, leaving lots of space for our own natures to get in the way of actual discourse.
The film continues to gain more audience as it continues to be distributed worldwide. In Brazil, his motherland, it was released under the title, Nos Becos de São Francisco, making a straight reference back to the city it was proudly shot.
For future projects, Corrêa advances into new ventures, like web series with a comedy troupe from Second City Hollywood. "I'm excited to explore new voices of comedy with Second City and getting on YouTube, TikTok, Instagram, and embracing the internet more than ever. I've been writing and directing for small screens and now vertical ones. But I have another screenplay under my sleeve and I'll be diving even deeper on the big screen." he explains.
This is one rising filmmaker that has made his way in the film industry the old-fashioned/grass roots way by paying his dues shooting his own films, out of pocket, guerrilla-style, and self-promoting. "I did this the way you are supposed to. I learned how to survive as an artist, get real, and how to fail and then figure out who I was as a writer and director. And, I worked hard."
Corrêa adds with a wink in her eye, "And, now, I'm just trying to change the world one frame at a time."